"You're braver than you believe, and stronger than you seem, and smarter than you think" Christopher Robin
Welcome to the Y6B Class Page
Please find below home learning instructions for Year 6.
If you have any questions or concerns, please do not hesitate to email me: joanne.boyle@greave.stockport.sch.uk
One thing I'd like you all to continue with throughout the school being closed is reading. You all know how much I love reading, and it makes such a huge difference to our ability to write, think, experience the world and build upon our creativity among lots of other things, too! There are lots of free audio stories that you can find and listen to if you're stuck for books - I know lots of you prefer to listen to a book being read to you rather than reading it yourself.
Keep smiling. We will get through this together.
Home Learning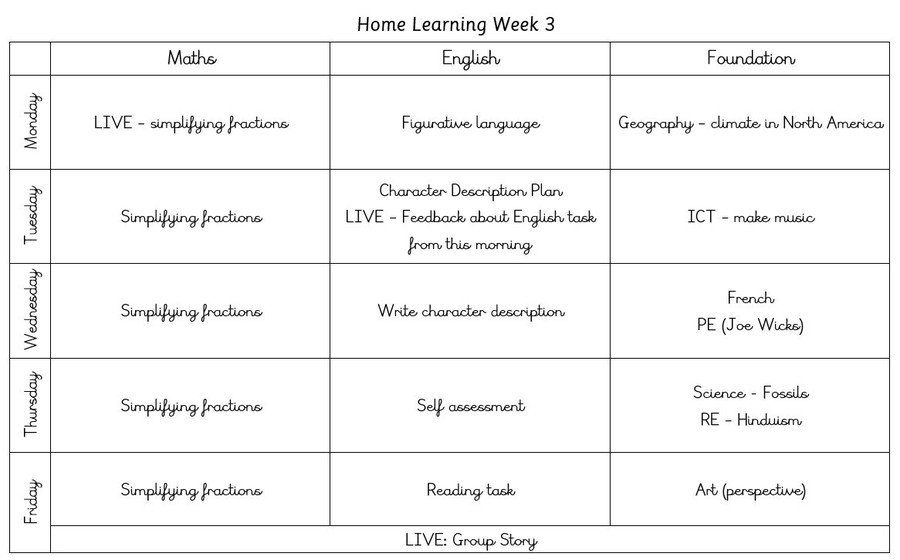 Monday 18th January
English
Have a look at the lesson below where you will be looking at further types of figurative language.
The Dreamgiver Figurative Language Lesson The Dreamgiver Video Link Mild - The Dreamgiver Comic Strip Template
Maths
Please find below tasks related to the Maths from our live session this morning. If you didn't manage to attend the live session or you'd like a recap, the PowerPoints have been included below.
If you want a further challenge, move up a spice level. Only complete the Fire Challenge once you have completed the Hot task.
Mild Simplifying Fractions PowerPoint Mild Simplifying Fractions Mild Simplifying Fractions Answers
Medium Simplifying Fractions PowerPoint Medium Simplifying Fractions Medium Simplifying Fractions Answers
Hot Simplifying Fractions PowerPoint Hot Simplifying Fractions Hot Simplifying Fractions Answers
Fire Challenge Simplifying Fractions Fire Challenge Simplifying Fractions Answers
Geography
Watch the video input below for Georgraphy where we will be looking at the different climates across North America. I'd then like you to choose one North American country and investigate the climate. You may present your findings in any creative way as possible e.g. a leaflet, poster, video, PowerPoint etc.
Geography - North American Climates Lesson
Tuesday 19th January
English
Below you will find the video input for today's lesson where I would like you to plan your final character description incorporating everything that you have practised over the past two weeks.
Tuesday 19th English Lesson Planning Sheet - The Dreamgiver Comparative Conjunctions Word Mat Character Description Word Mat
Maths
There are different activities going today all relating to simplifying fractions. Like yesterday, if you want to further challenge yourself after you've completed the task that you have chosen, go up a spice level.
Only complete the Fire Challenge once you have completed the Hot task.
Mild Simplifying Fractions Input Mild Match Me Up Mild Match Me Up Answers
Medium Simplifying Fractions Input Medium Match Me Up Medium Odd One Out Answers
Hot Simplifying Fractions Input Hot Simplify Fractions Hot Answers - Simplify Fractions
ICT
Your Scratch creations looked so good last week - well done! This week, I'd like you to make music. Follow the link again, click on tutorials (top menu) and choose Make Music.
Wednesday 20th January
English
Today I would like you to finish creating your story map if you haven't already done so, and then I would like you to write your character description, showing off everything that you have built up. Keep your reader in mind - how are you going to keep them (me) wanting to read on? Make sure your sentence start in a variety of ways and please try to vary your sentence structure and punctuation. There is an example below of mine to show you what a good one looks like - you may use this as a help or template if you would like to.
Maths
If you choose to complete the Mild or Medium task today, there is a Fraction Wall to help if you would like it.
Mild Simplifying Fractions Fractions Wall Mild Simplifying Fractions Answers
Medium Simplifying Fractions Medium Simplifying Fractions Answers
The Hot task today again involves a lot of thinking. I'm not necessarily looking for the right answer, rather I'm interested in your reasoning for it. Please make your explanations as clear as possible (as I'm unable to discuss it with you) so I can measure your understanding.
French
This week, I'd like you to have a look at Habitats in French. Please follow the link below and login using our school's login details (you will find them on our ClassDojo story this morning). I'd then like you to, from the middle column (Intermediate Level Challenge) choose Unit 12: Les Habitats. Go through the presentation on there - there are some listening tasks to complete and there are also some interactive games that you can play!
P.E.
Time to get active! Joe Wicks has got a live again this morning, but I have also been told that there are other celebrities who are doing PE lessons. Have an explore and let me know what you got up to.
Thursday 21st January
English
Yesterday you wrote your final character description. Today I'd like you to create a success criteria of all the descriptive features that I wanted you to include and identify them in your work. This is also an opportunity for you to go to edit and improve; are there any spellings that you weren't sure of or have you made sure that you've varied your sentence structure and sentence openers? Could you improve your vocabulary? If you didn't include technique yesterday, could you go back and try and include it today? Have a look at my example below to help you.
Character Description Self Assess Example
Maths
For Maths today I'd like you to create your own Correct or Not Correct task involving equivalent fractions and/or simplified fractions. You have to know the answers yourself so that you can mark it. If there's someone at home who would be willing to try it once you'd created it, you could even mark their work. Or you could send it to a friend to try! There is a blank template below or you can draw your own table.
Correct or Not Correct Template
Science
This week I'd like you to look at Fossils. There is a lesson video below where you will learn all about them, and then your activity is attached below that. You could even look at how to make your own fossils at home - there are lots of guides on the internet!
Lesson - How do fossils provide evidence for evolution? The Fossil Record Activity
RE
We are going to begin learning all about Hinduism. Read through all the information on the link below, look at the pictures and watch the video. There are also some games on the page to test your knowledge. I'd then like you to create an information leaflet or non-chronological report all about Hinduism.
Please remember a leaflet/non-chronological report are text types that do not need to be written in non-chronological order. They are usually non-fiction texts which give information on a particular subject or event, without referring to the order in which things happen.
Some of the features I'd like you to include are:
* Sub-headings for the different sections
* Paragraphs with factual information
* Fact boxes and bullet points
Friday 22nd January
English
Below are three different reading activities based on three different pictures. These are based on the mild, medium and hot challenges: the spicier you go, the greater the challenge will be.
Mild Reading - A Refugee Camp Medium Reading - The Log Cabin Hot Reading - World Travel
Maths
Today you have an Eliminate Me activity. There is a grid with 9 fractions in; none of these fractions are in their simplest form. You have to use the statements at the bottom of the page to decide which fractions that statement is true for.
If you complete the Medium task and need more of a challenge, the next spice (Hot) is to create your own. It may look simple, but a lot of thought goes into developing the questions to know that they definitely have answers!
Mild Eliminate Me Mild Eliminate Me Answers
Medium and Hot Eliminate Me Medium and Hot Eliminate Me Answers
Art - Understand the Concept of Perspective
Today I'd like you to continue to develop your perspective drawings. Watch the video attached below. This is similar to the one you watched last week, but it starts to add more detail into the buildings as last week you left them without the detail. Draw another vanishing line and point on a new piece of paper and follow the video step-by-step to try and add more detail into your city. Remember to always use the vanishing point to make sure the perspective and depth are accurate.