Reading gives us somewhere to go when we have to stay where we are.
Welcome to the Y6B Class Page
Please find below home learning instructions for Year 6.
If you have any questions or concerns, please do not hesitate to email me: joanne.boyle@greave.stockport.sch.uk
One thing I'd like you all to continue with throughout the school being closed is reading. You all know how much I love reading, and it makes such a huge difference to our ability to write, think, experience the world and build upon our creativity among lots of other things, too! There are lots of free audio stories that you can find and listen to if you're stuck for books - I know lots of you prefer to listen to a book being read to you rather than reading it yourself.
Keep smiling. We will get through this together.
Home Learning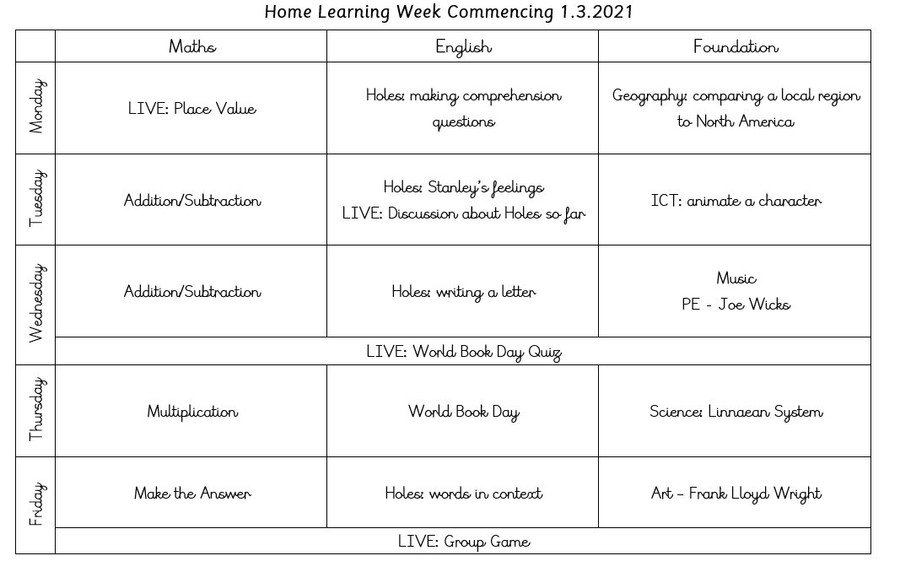 Monday 1st March
English
Please watch today's lesson video below and then complete your task.
Holes Chapter 6 Mild Comp Question Stems Medium Comp Question Stems Hot Comp Question Stems Chilli Challenge Comp Question Stems
Maths
Before returning to school next week, I'd like you to recap some of the skills that we have already learned in Year 6. Have a go at the Place Value activities below and please mark your work before uploading to ClassDojo.
Mild Place Value Medium Place Value Hot Place Value
Mild Place Value Answers Medium Place Value Answers Hot Place Value Answers
Topic
Read through the PowerPoint. It starts off by getting you thinking about your local area and then moves on to discuss human and physical geography, before beginning to compare your area with a region in North America. Look through the different pictures of regions of North America and consider whet their culture is like, what the terrain is like, what the climate is like and what their population is like.
Your task is to choose one of the location cards (see the resources) and then use the question cards (also in resource document) to research your chosen area to then compare it with your own region.
Mild – Focus on two questions and record your research on worksheet 6A.
Medium – Focus on three questions and record your research on worksheet 6B.
Hot - Focus on four questions and record your research on worksheet 6C.
You can present your research however you like – an oral presentation; a PowerPoint; an information booklet or a poster.
North America PowerPoint North America Worksheets
Tuesday 2nd March
English
Please watch the video lesson below and then complete the task all about how Stanley feels.
Holes Day 5 Activity (typing friendly) Holes Day 5 Activity (PDF)
Maths
Today's Maths activities are based on addition and subtraction. Please look at the tasks below and complete. If you choose the Hot task, you will need plenty of resilience today! Don't give up and keep thinking about that positive mindset!
Mild Addition Medium Inverse Operations Hot Multi-step Problems
Mild Addition Answers Medium Inverse Operations Answers Hot Multi-Step Problems Answers
ICT
Because it's World Book Day on Thursday, today I'd like you to choose one of your favourite characters from a story. I'd then like you to animate this character in Scratch. Think about how to create a backdrop suitable for the character/story and also think about your sprite.
Follow the link below, which will take you to the Scratch website. Choose 'Tutorials' on the top menu and select 'Animate A Character'.
If you can share it on ClassDojo, then I'd love to see your creation!
Wednesday 3rd March
English
Please watch today's lesson where you will be told your activity.
Letter to Mum (typing friendly) Letter to Mum (PDF)
Maths
Today in Maths you are carrying on looking at Addition/Subtraction. Remember to mark your work!
Mild Subtraction Medium and Hot Addition and Subtraction
Mild Subtraction Answers Medium and Hot Addition and Subtraction Answers
Music
Today in Music you will be exploring a new note and reading more simple rhythms. Watch the lesson video below and enjoy!
P.E.
During the half term holiday, I've enjoyed doing Joe Wick's style workouts! So it's time to go back and complete one of his HIIT style PE lessons. You could join him live or complete one of his lessons that are saved on his YouTube channel.
Thursday 4th March - World Book Day
English
Today is World Book Day. I'd like you to look at the menu of activities below and choose two of them to complete today. You know how passionate I am about reading, so I'd love it if you could share your completed activities with me.
World Book Day Activity Menu Potato Character Examples Gruffalo Recipe Ideas
Maths
In Maths today we are recapping Multiplication. Think about all the different methods of Multiplication that you have been taught throughout school to help you with today's activities.
Mild Factors and Multiples Medium Multiplication Hot Multiplication
Mild Factors and Multiples Answers Medium Multiplication Answers Hot Multiplication Answers
Science
Please look at today's lesson video and then complete the activity. It is a bit tricky today, but don't worry. As long as you try your best, that's all I could ever ask for.
Activity Sheet Classifying Species
Friday 5th March
English
Please watch today's lesson video and then complete the words in context activity below.
Words in Context (typing friendly) Words in Context (PDF)
Maths
Today's activities need you to think about your decisions. You need to make the answer by finding all the numbers that total (add up to) a given number. I want all possibilities found and a question I will be asking is: how do you know you've found all possibilities?
Mild Make the Answer Medium Make the Answer Hot Make the Answer
Art
Today's North American Artist is the architect Frank Lloyd Wright. Have a look through the PowerPoint at some of his famous buildings that he made.
Your activity is to then make a Building Block House using any resources that you can find. It needs to be 3D and needs to be able to stand on its own without support of you (or a wall) to hold it upright. Make sure you take the ideas from Frank Lloyd Wright's buildings and maybe even choose one to base your design on.
I cannot wait to see how creative you are with your designs (an extra 10 points if cake is involved in your building block house!).